Education is important in Kenya. Parents and (even distant) relatives are willing to sacrifice a lot to educate their children. Sometimes the last cow is sold to pay school fees. For many education is beyond their possibilities.

Secondary education does not guarantee a job. However, lack of proper education is an almost certain guarantee, that the few jobs available will go to someone else.

Eliud completed primary school in November 2004 with excellent results. He was the best of his school. No wonder he was invited to the best secondary school of Nyanza province. Unfortunately there is no one to pay for his school fees. He sent his request for help to Outreach Europe.

Who is willing to sponsor (a teenager like) Eliud through secondary education? We need € 25,-- per month, for a period of four years. This provides for fees, and food (most secondary schools in Kenya are boarding schools), and for exams in his last year.
speaking with young people.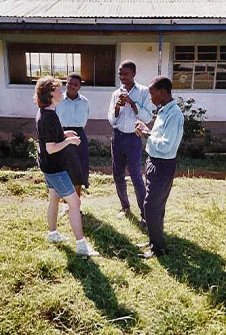 Please click to enlarge.